Sports and Extra-Curricula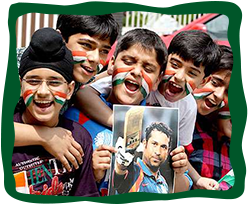 Games and sports constitute a vital part of education. We believe that education is more than mere information and knowledge. The School provides abundant facilities for outdoor and indoor games and sports. Some of these are basketball, cricket, badminton, table tennis, carom, chess, kabaddi etc.
Extra-curricular activities with emphasis on Indian culture help develop the personality of the child and inculcate a sense of value in the young minds.
Through various programmes we make sure that the bonds with our culture are strengthened and patriotic feelings are intensified, coupled with a firm faith in the time-honoured cultural and social traditions of our country. We also make sure that our students are fearless and free from inhibitions by exposing them to different situations through inter-class and inter-school competitions. Our students have done us proud in debate, painting and essay writing competitions held at the district and state levels.
Time to time cultural programmes like Plays, Quiz contests, Debate competitions, Patriotic programmes, essay writing competitions, Singing, Painting and drawing competitions and other creative activities are organised.
Latest News (25th September 2019)
13 students of our school got selected in pre-Regional Mathematics Olympiad held on Sunday, 11th August 2019 at Gaya, Bihar.
They will sit for the main Regional Mathematics Olympiad to be held on Sunday, 20th October 2019 at Bhagalpur, Bihar.
A list of successful candidates are as follows:
| | |
| --- | --- |
| S. No | Candidate's Name |
| 1 | Mohammd Atiquddin |
| 2 | Mohammad Mahroz Alam |
| 3 | Akash Kumar |
| 4 | Farhan Akhtar |
| 5 | Aryan Kumar |
| 6 | Abhinav Kumar |
| 7 | Silki kumari |
| 8 | Aiyan-ul-Haque |
| 9 | Junaid Quadri |
| 10 | Mohammad Amanullah Hussain |
| 11 | Shaghil Saddat Khan |
| 12 | Shabaz Alam |
| 13 | Md. Zeeshan Shaheen |