About Us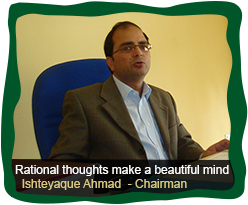 The philosophy of education has many facets. In main, it includes integration of the child with his/her own self as well as with the environment and drawing out one's potentialities. The school is determined to strive to accomplish both. To this end all tools of education, modern and traditional, are deployed in a scientific way to assist the student in developing physically, mentally and spiritually. The importance of the play field in personality development reverberates with Churchill's assertion that "The Battle of Britain was won in the play grounds of Eton and Harrow."
The school started yielding heartening results from the very inception, and it is destined to achieve the highest excellence in academics, sports and personality development.
English language is taught intensively and comprehensively. Grammar, pronunciation and composition form the pillars of any language. Pronunciation is the most important aspect of the spoken English.
We ensure that each word learnt by the student is also correctly pronounced according to the international standard. Syllables and stresses, accentuation and intonation are explained to the students in detail.
A great deal of emphasis is put on Moral Science which is highly edifying and helpful in creating an atmosphere of perfect communal concord and social harmony.
The School was established in April 2000. It is run by Elegant Minority Welfare Society; registered permanently in Bihar under the Society Registration Act 21, 1860. The School has NOC from Bihar Government and is affiliated to Central Board of Secondary Education with affiliation number 330138 being regular. It is renewed every 5 years. Affiliation extension expires in March 2019. The area of the school campus is 1.44 acres(approx.) ; Total built up area 3565 sq.mt; Playground area 2458 sq.mt. It has a dance room, music room, medical and health checkup as well.
Class I to V monthly fees is Rs.2310; Class VI to VIII monthly fees Rs.2310; Class IX to X monthly fees Rs. 2820; Term fees from Class I to X is Rs.1090 Total 23 sections for Class I to X ; Class IX-X - 7 sections; Class VI-VIII -9 sections ; Class I-V - 7 sections
Academic session starts from 1st April of the calendar year to March next calendar year. Summer vacation begins from 13th May to 22nd June and Winter vacation from 25th December to 14th January
Admission period – 1st February to 25th March
School Chairman – Ishteyaque Ahmad, Katari Hill Road, Gaya
email : elegantpublicschool.gaya@gmail.com
Telephone no. : 0631-2220426
fax : 06312221051
School Managing Committee
| | | | | | | | |
| --- | --- | --- | --- | --- | --- | --- | --- |
| S.No. | Member's name | Father's/Spouse name | Address | Designation in SMC | Work Status | Home no. | Work no. |
| 1 | Debasis Bhattacharya | Amal Kumar Bhattacharya | Katari Hill Road, Gaya | Secretary | Principal of Elegant Public School | 9801777763 | 6312221051 |
| 2 | Sangita Devi | Ashok Ram | Imalya Chak, Gaya | Member | Mother of Student | 7277127786 | 7277127786 |
| 3 | Asif Raza | Mujtaba Bakt | Road No. 3 Aliganj, Gaya | Member | Father of Student | 9431614915 | 9431614915 |
| 4 | Naaz Perween | Md.Shaukat Ali | Road No. 3 New Karim,Gaya | Member | T.G.T Teacher of Elegant Public School | 9162459307 | 6312220426 |
| 5 | Ritu Anand | Mahendra Das | Bithosharif, Gaya | Member | T.G.T Teacher of Elegant Public School | 9955402138 | 6312220426 |
| 6 | Sana Perween | Ahmed Hussian | Millat Colony, Gaya | Member | T.G.T Teacher of Gyan Bharti World School | 7250580976 | 7250580976 |
| 7 | Nilofer Ashraf | Ashraf Hussian | Imran Colony,Karimganj,Gaya | Member | T.G.T Teacher of Subhas International School | 8102768473 | 8102768473 |
| 8 | Nayaz Mallick | Saraj Mallick | New Karimganj , Gaya | Member | | 9835563356 | 9835563356 |
| 9 | Dr.Wasoori | Kamal Wasoori | Ashoknagar, Gaya | Member | | 9810489782 | 9810489782 |
| 10 | Manish Kumar | Dhirender Singh | Manpur, Gaya | Member | | 9934685607 | 9934685607 |
| 11 | Suman Kumari | Sarju Prasad | Imalya Chak, Gaya | Member | | 9852972905 | 9852972905 |
| 12 | Tabassum Fatma | Rasheed Khan | Murarpur, Gaya | Member | | 9945441825 | 9945441825 |
| 13 | Usha Devi | Shiv Shankar | Maranpur, Gaya | Member | | 9955836661 | 9955836661 |
| 14 | Wali Imam | Ali Imam | Baniyapokhar,Gaya | Member | | 7858989719 | 7858989719 |
| 15 | Gazala Shahin | S.M Aftab Alam | Chowk Near Chandra Shekhar Azad College | Member | T.G.T, M.Sc, B.Ed Teacher in Crane Memorial School | 9155469062 | 9155469062 |
| 16 | Nibha Ojha | Manoranjan Kumar | GB Road, Gaya | Member | T.G.T Hindi Teacher in Gyan Bharti Global, Rasalpur, Gaya | 9570369582 | 9570369582 |
| 17 | Afiya Shakil Ahmed | Shakil Ahmed | Murarpur, Gaya | Member | M.Sc,B.Ed Teacher in Podar International, Gaya | 7903683537 | 7903683537 |
| 18 | Zeeshan Ahmed | Nazinuddin | New Karimganj, Gaya | Member | T.G.T Teacher of Elegant Public School | 8789533247 | 8789533247 |
| 19 | Ejaz Karim | Md Sharafat Karim | Road No.1 Aliganj,Gaya | Member | Principal of Shatabdi Public School | 8986280501 | 8986280501 |
| 20 | Anjani Kumar | S. Kumar | Bairagi, Gaya | Member | Principal of KV-I | 0631-2223447 | 9431453849 |
| 21 | Kamlesh Kumar Singh | Dr.Parmanand Singh | Ashoknagar, Gaya | Member | Principal of Modern Academy | 9199559199 | 9199559199 |
NO of women (members) = 11
No of men (members) = 10
Total = 21